Saturday: Orange Lo Mein Chicken: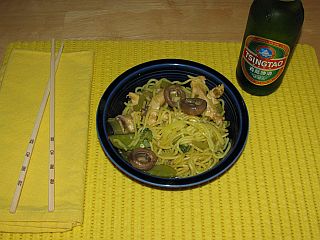 Sunday: Barbecued baby back pork ribs with baked beans and broccoli coleslaw.
Did not get to post the suggestions for weekend food before hand, so here's what we had:
Saturday: Mozzarella stuffed meatballs with pesto-marinara sauce, pasta and garlic bread.
Sunday: Killer chicken-fried steak with garlic mashed 'taters and green beans.