Discussed Chicken Parmesan using skim milk and egg whites in the coating. On the side, egg noodles and something green like broccoli, Brussels sprouts or braised cabbage.
We also decided that chili would be a good thing for the Sunday meal.
Saturday: Chicken Romano served on pasta primavera topped with Verna's famous Marinara Sauce! Damn! this was good!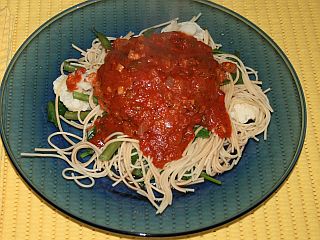 Sunday: Homemade Chili and Cornbread (no photo available).