Looked in the freezer and saw a lot of pork spareribs. We should crockpot a rack this weekend. Also, there was a package of frozen spinach – something "Florentine" seems appropriate . . .
Verna said, October 23, 2008 @ 10:56 AM PDT:

Spare ribs, potato salad and baked beans.
crazy yellow chicken with rice and beans
Saturday: Crazy Yellow Chicken, rice and beans in a Burrito.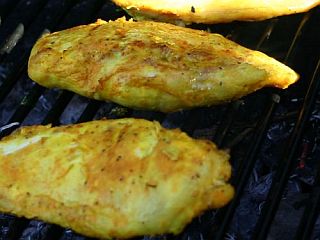 Sunday: BBQ Ribs (meat falling off the bones), baked beans and Verna's excellent potato salad (no photo available – we dove in too quick).